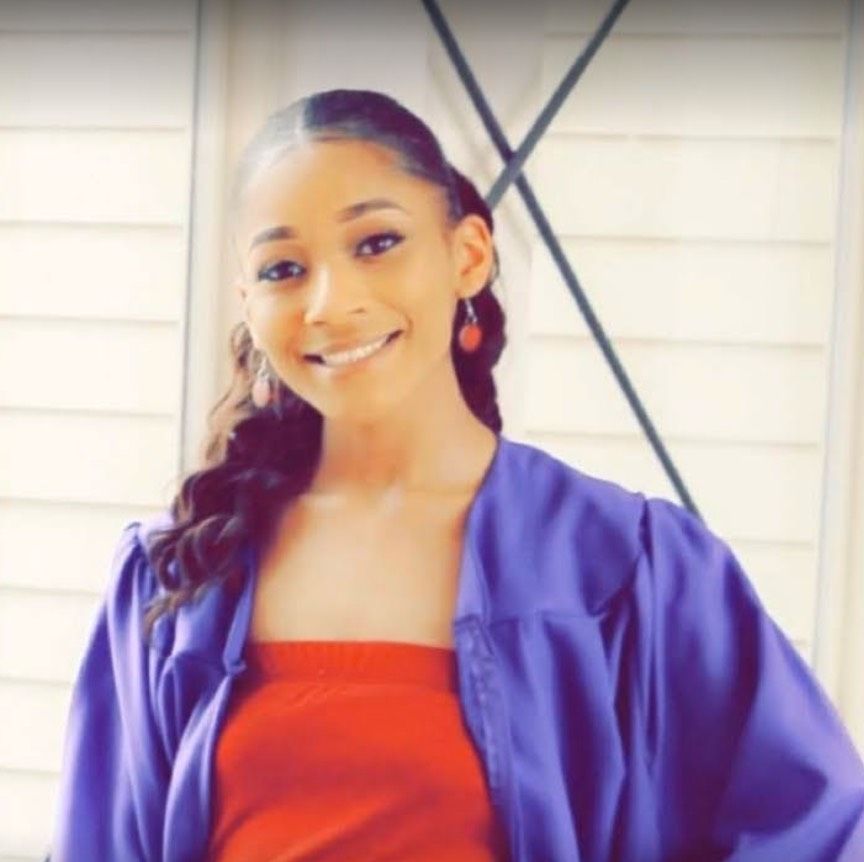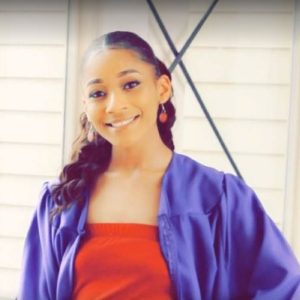 At Risch Results, our interns are some of our most valuable contributors. We learn as much from our interns as they learn from us! Our incredible intern Sparkle Pickney's year-long internship at Risch Results is coming to an end. She reflects on the experience and skills she has gained from working as a sourcing intern with our recruiters.
Read Sparkle's reflection below to learn what skills she'll take away from her time at Risch Results.
Top 5 Internship Skills
By Sparkle Pickney
As my year-long internship at Risch Results comes to an end, I am reflecting on the valuable experience and skills I have gained. Throughout my time as a sourcing intern, I had the opportunity to work alongside experienced recruiters and develop my professional skills in ways I never thought possible.
I want to share the top five transferable skills I have gained during my time at Risch Results.
Interpersonal Skills
As a sourcing intern, I was responsible for reaching out to potential candidates through various communication channels. Through this experience, I learned how to effectively communicate opportunities and value to candidates. This skill is transferable to any job as communication is a key component in building relationships and working effectively in a team.
Creative Problem Solving
In recruiting, there are times when traditional methods may not yield the desired results. During these times, I was encouraged to think outside the box and come up with innovative ways to identify and engage potential candidates. This skill can be applied to any job where there is a need to generate creative solutions to problems.
Sales
As a sourcing intern, I learned how to sell a client's value proposition to potential candidates, and communicate the candidates' capabilities to clients. This experience has helped me improve my ability to effectively convey value to others, which can be applied to various job functions.
Adaptability
Throughout my internship, I worked on various recruitment positions for clients in different industries. This required me to quickly adapt to new environments and understand the nuances of each industry. This skill is essential in any job where there is a need to quickly adjust to changing circumstances.
Research
In recruiting, research is essential to stay informed on market trends, industry developments, and potential clients. I developed strong research skills during my internship, which allowed me to make informed decisions and stay up-to-date with positions. This skill is transferable to various roles where research is necessary to improve decision-making.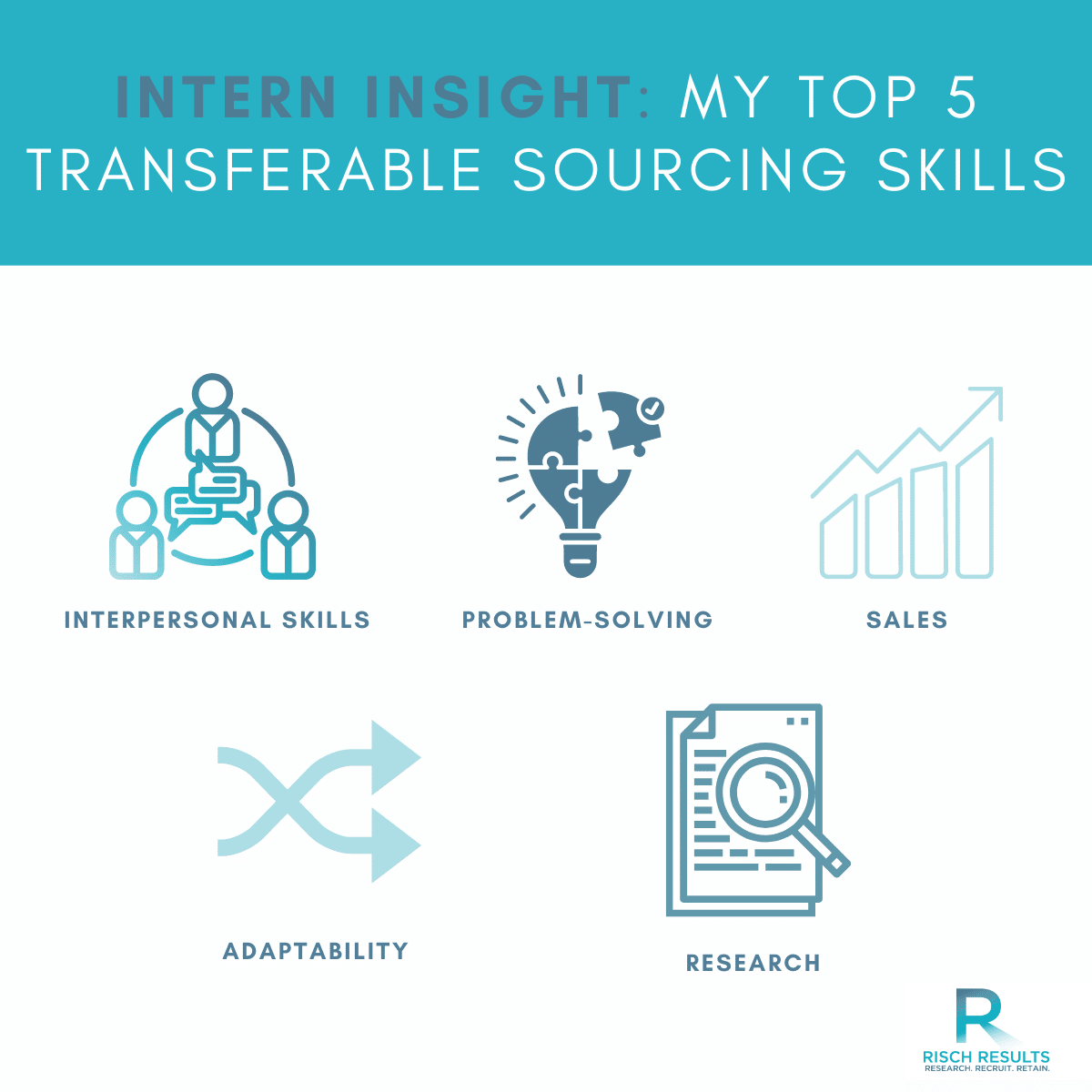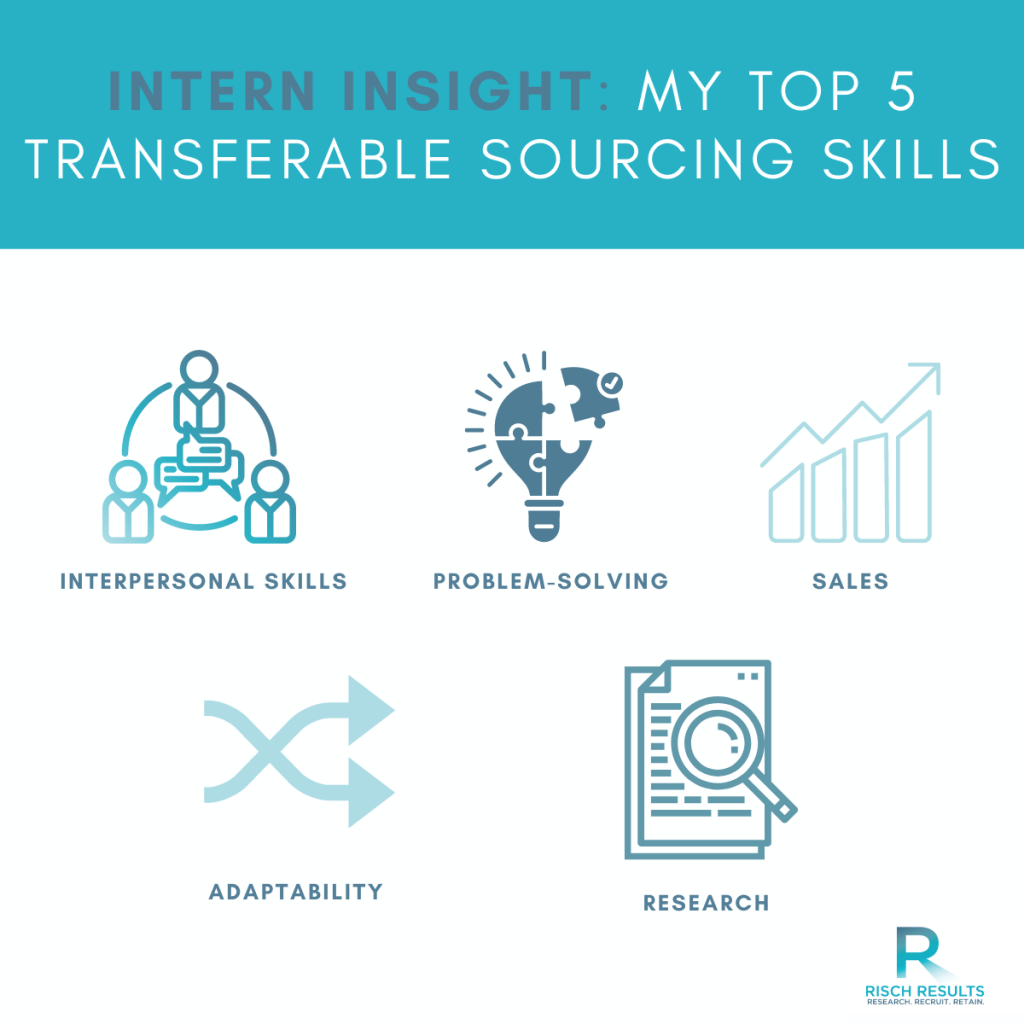 Conclusion
In conclusion, my internship at Risch Results has been an invaluable experience that has helped me develop a range of transferable skills that will serve me well in my future career. I am grateful for the opportunity to work alongside experienced recruiters and learn from their expertise. I look forward to applying these skills to my future roles and continuing to grow both personally and professionally.
We will miss you, Sparkle! Thank you for being an amazing member of our team. We can't wait to see what's in store for you next.