Employee Motivation: Inclusion and Praise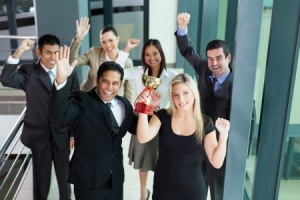 Employee motivation is easy to understand in theory, but it is much harder in practice. Many times bosses and managers become inundated in the day-to-day tasks and can lose sight of long-term, employee development, particularly employee motivation. This oversight, however, can cause severe structural dilemmas in the long-term. I have identified two main factors to focus on for employee motivation: inclusion and praise.
Inclusion: Inclusion in decision-making is crucial in basic motivation as it dignifies an employee. Obviously, there are different levels of inclusion and it is a manager's job to identify the acceptable level of inclusion of an employee.
Take a high school as an example. The janitor will not be included in any academic and financial planning, but he could be included in the determination of the cleaning routine schedule and the procurement of cleaning supplies. A new history teaching fellow will not be included in curriculum planning, but should have input in the day-to-day lessons plans for the classes he helps with. When he becomes a full-time, history teacher, he is then included in broader history curriculum planning; many years later, as the head of the History Department, he is included in discipline-wide curriculum planning.
Obviously, it is much easier to determine someone's inclusion when higher up the ladder, but it is crucial for a manager to identify areas of inclusion for new or less skilled employees. Proper inclusion does not only improve efficiency – an employee can provide specific knowledge regarding his tasks – but,  more importantly, allows the employee to feel pride and inclusion in the larger aims of the organization or firm.
Praise: Praise, on the other hand, constitutes the harder aspect of employee motivation; you can't delegate praise like we just did with decision-making. Instead, praise is a behavior that a manager must deftly employ without coming across too structured. Furthermore, praise must be on an individualistic level. For instance, a monthly lunch to praise and thank 50 employees is a nice perk, but does not actually praise any of the individuals. While managers will most often receive the credit for a finished product or idea, the manager has a responsible to individually praise the employees that helped in this creation. Not acknowledging an employee's role in a process will discourage initiative. Why would an employee bother thinking out of the box if he doesn't get any credit from his immediate superior?
Related: Building a Productive Work Team
Bottling up effective employee motivation into two steps oversimplifies the complexity of employee motivation. Let this post, then, serve as a start and as a reminder that employee motivation is of the utmost important and must be consciously and adeptly planned for.