Incredible Generosity Makes a Significant
Difference in North Texas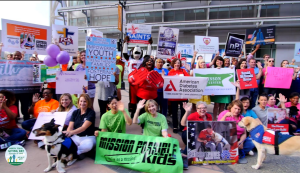 September was a banner month for philanthropy, with North Texas continuing to be a standard bearer in volunteerism and fundraising. The 14th annual Freedom Day was Dallas' largest 9/11 commemorative service event, with almost 1,000 volunteers serving more than 5,000 hours to support veterans organizations Equest Hooves For Heroes; Carry The Load; Honor, Courage, Commitment; The Mission Continues; Team Rubicon; Veterans in Business; and IAVA. Additional service partners included River Ranch Educational Charities and the City of Dallas Trinity Watershed Management. When founded on September 11, 2002, Freedom Day set out to turn a day of tragedy into a day of triumph. It's now the single largest "Plug 'n' Play" for the employees of 100 Entrepreneurs For North Texas member companies each year, and if you watch this year's highlights video, you can begin to understand why EFNT employees actually look forward to 9/11 because of the joy they experience from volunteering.
Freedom Day alone would have been considered a success by any measure, but September also included the single largest community-wide giving day in the galaxy – North Texas Giving Day. Donors again outdid themselves raising more than $33 Million in 18 hours for more than 2,100 nonprofit organizations.
For dozens of small- to mid-sized companies in Entrepreneurs For North Texas, North Texas Giving Day also makes employee giving and employee matching easy. Employees feel empowered to contribute to the North Texas charities of their choice, and employers who have established donor advised funds with the Communities Foundation of Texas can easily incentivize employee giving by using their fund to provide matching bonus funds. Companies using donor-advised funds to fulfill their charitable donations also enjoy the ability to designate their gifts in advance of Giving Day, helping the organizations they support maximize their opportunities to receive bonus funds, and avoiding credit card fees so the full amount donated goes to the nonprofit's mission. Through employee contributions and donor-advised funds combined, the member companies of Entrepreneurs For North Texas gave a total of $270,264.84 this year…no small feat!
Whether through employee volunteerism or contributions, these are just two more ways Entrepreneurs For North Texas makes it easy to do good, building camaraderie among colleagues, deepening relationships in our North Texas community, and inspiring loyalty among employees. We couldn't do it without the thousands of innovative givers who make up our Entrepreneurs For North Texas family; join us!