Recruiting and Hiring with Risch Results in 2022
Last year was one for the books at Risch Results! We continued to serve our clients as a retained search firm, recruiting and hiring positions across multiple industries. While 2020 and 2021 gave us time to reconnect with our mission to build dynamic and diverse teams, 2022 was a year to fortify it. We kicked off the year with our DEI and Unconscious Bias event, offered insight on various platforms about mitigating bias from the hiring process, and even wrote our own DEI statement as a team.
Our team grew with the addition of two new hires and four incredible interns. In addition, we introduced two new services: Contract Fractional Recruiting and Professional Branding, which is led by our partner Nickquolette Barrett.
We are grateful to our incredible network, our clients, and our team for making 2022 one of our best. And, we are proud to share our milestones.
Contract Fractional Recruiting with Communities Foundation of Texas and Risch Results
Because of rapid growth at Communities Foundation of Texas, the organization needed to quickly scale their hiring efforts. Risch Results came in as a Contract Fractional Recruiter, placing one of our own recruiters in-house on the CFT HR team. With a dedicated talent acquisition specialist in place, and with the support of our research team, we were able to help CFT fill 23+ roles with top talent during the engagement.
Here's a video that shared the highlights of our engagement.
Recruiting and Hiring By the Numbers
We took a look at our positions filled in 2022 to find patterns and trends. What did recruiting and hiring look like for Risch Results clients last year? Here's what we learned about the clients we served and the positions we filled.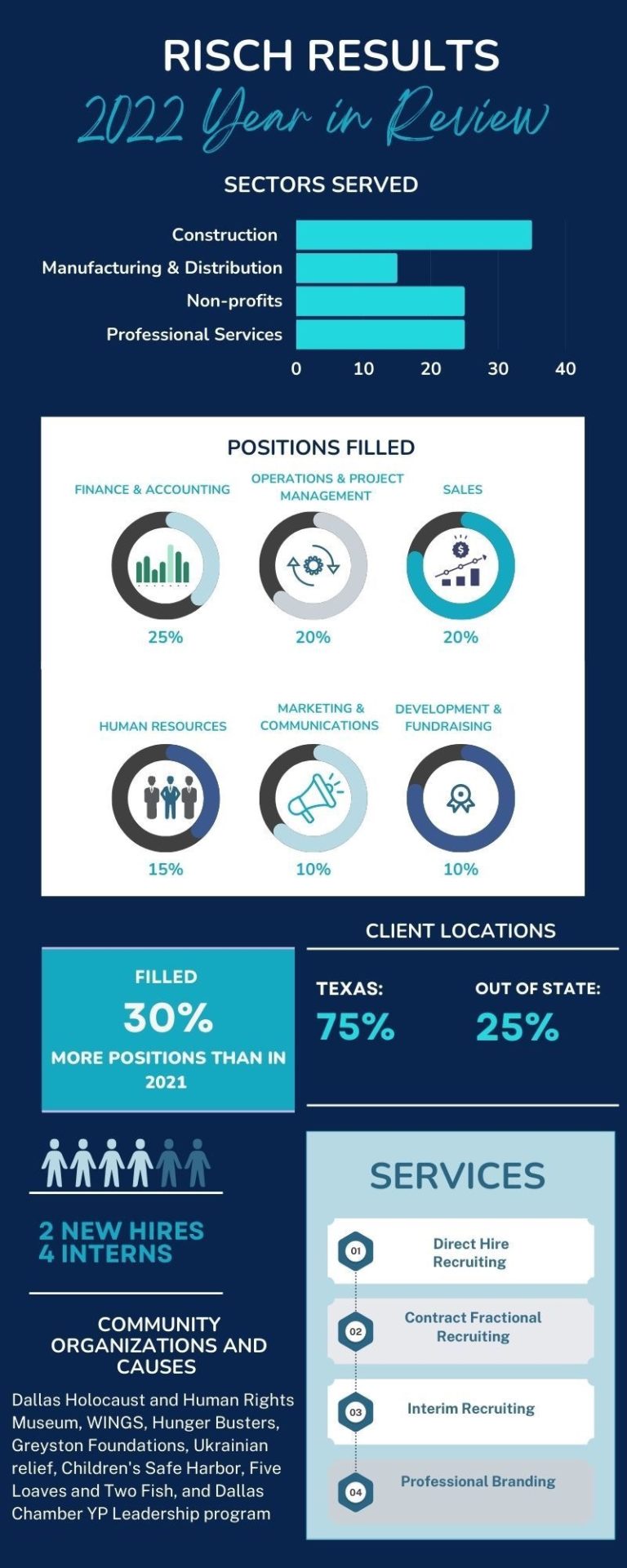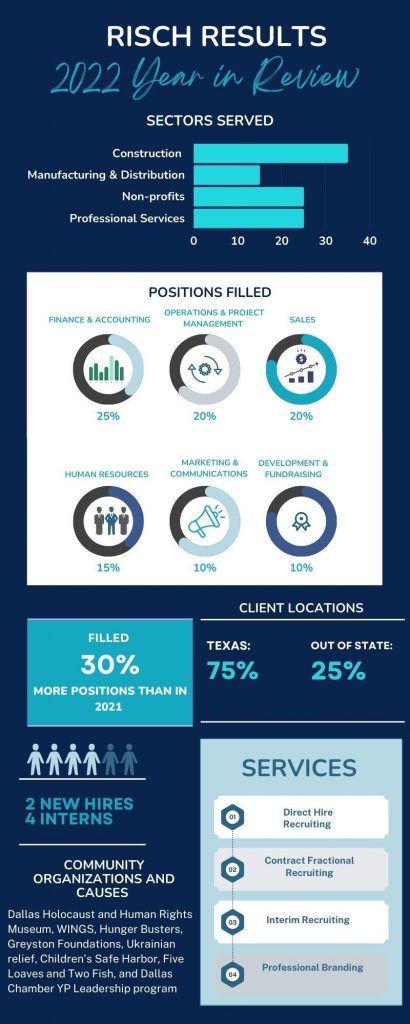 Industries Served:
Construction Services: 35%
Manufacturing or Distribution:15%
Non-Profit: 25%
Professional Services, Property Management, Real Estate: 25%
Positions Filled:
Finance and Accounting: 25%
Operations/Project Management: 20%
Sales: 20%
Human Resources and Recruiting:15%
Marketing and Communications:10%
Development and Fundraising, Non-Profit:10%
Average Fill Time Per Position:
48 days
Community Organization and Causes Served:
Dallas Holocaust and Human Rights Museum
WiNGS
Hunger Busters
Greyston Foundation
Ukranian relief
Children's Safe Harbor
Five Loaves and Two Fish
Dallas Chamber YP Leadership program
Recruiting and Hiring with Risch in 2023
It might be hard to top 2022, but we're excited to see what 2023 has in store. What will the year look like? Some sources are predicting a rebalance in the job market post the pandemic and Great Resignation. Others are closely watching as companies navigate the future of hybrid work, trends like quiet quitting, and the economy's potential inflection point.
For us, one thing is certain: we will continue in our commitment to our core values, our clients, and our mission. We hope we have the chance to work together this year!