The People Connection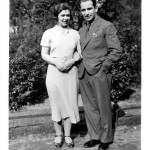 Who you are says a lot about what you do
Aside from education, skills training, and networking, there's a critical element to becoming an executive recruiter: understanding people. This means hearing what a hiring manager isn't saying about the position he or she needs to fill, or reading between the lines on a candidate's resume to discover talents and skills that can enable success. In order to be an executive recruiter—a good one, that is—you need what I call the People Connection.
This isn't something you can learn, any more than you can learn to love skydiving. You either have it or you don't—it's like a sixth sense. You can hone the skill, but you can't create inorganically.
I realized I had this People Connection very early on in life. And it turns out, who you are says a lot about what you do in your career.
Sum of Our Past
I'm the granddaughter of immigrants who fled Germany to escape anti-Semitism and the Nazis. My father's parents came to the United States just as things got worse for Jews in Germany, and he began working for Empire Paper Company in 1938. My grandmother worked in the office of an upholstery manufacturing factory. From them I learned about resilience, perseverance, and generosity.
As for my parents, they are the first generation in our family to go to college and graduate school. From them I learned about the importance of having a work ethic, adventuresome spirit, and community involvement.
During my childhood, we lived around the world, including London and Athens.  When I was 13, we toured Cape Cod by bike.  At 14, I biked throughout the Pennsylvania Dutch country. At 15, I went to Israel and lived on a kibbutz for the summer. And at 16, I visited France to learn French. These adventures taught me the importance of being open minded to experiences—and most importantly, being open minded to people with different experiences.
The Future Is Today
We are all shaped by influential moments in life. The common denominator across all of my personal milestones is my intrigue with people—the way they behave, interact, and perform. Here are a few examples of key things that shaped my life:
College: I attended Brandeis to study sociology and education. I also spent a summer in Florence and traveled Europe with a Eurorail pass.
Kindergarten Teacher: I taught in the inner city of Washington DC.
Peace Corps Volunteer: I was stationed in Haiti and then Costa Rica.
Graduate School: At Columbia, I studied organizational psychology. I got certified in conflict resolution. I fell in love with the idea of organizational change management and helping companies manage employee performance.
I learned much from many people during my travels through Europe, Central America, and the U.S. The common element: my desire to understand motivation and the ways in which people work together. I'm always eager to learn more about people, so I travel as often as I can.
Chance Encounter
On a trip in 1996, I had the good fortune to be seated on the plane next to the Southwest Managing Director of Ernst and Young's People Practice. We talked, and by the end of the flight, he told me to call for a job. I did, and for the next six years, I worked for E&Y's consulting group within the people practice. My focus: change management, training management, and performance management.
In 2002, I took a leave of absence to do non-profit work within my community.  During this time, I worked with various small businesses in different capacities—often performance management and team building.  I also received requests to help small businesses hire critical team members. By 2007 I realized that what I loved doing the most was recruiting. This is when I officially formed Risch Results.
True Results
Who you are today is a result of everything that's happened up until this point. If you're a people person, like me, you're probably in a career that focuses on assisting or interacting with others.
I'm a business owner devoted to people—individuals and the companies that need their talent to grow. I think of myself as corporate matchmaker. I bring people together with the goal of providing opportunities for all involved. My role as an executive recruiter hinges on that critical people connection… which I'm proud to say has been shaped and molded by my family, my children, my past, and my beliefs. This is why I'm here today. And this is why I'll be passionate about recruiting tomorrow.