Our team kicked off our first DEI and Unconscious Bias event of 2022 in February. We were honored to host an esteemed panel of experts to lead our conversation. They shared insights as thought leaders in diversity, equity, and inclusion in the workplace. Our guests engaged in learning and discussions they could bring back to their own organizations.
At Risch Results, we believe we cannot have diverse, inclusive, equitable communities if we can't build diverse, inclusive, equitable companies. We partner with leaders to build dynamic and diverse teams every day. This Unconscious Bias Series was born out of our vision to make an impact on communities by eliminating bias.
We hosted the event at the Dallas Holocaust and Human Rights Museum. We're grateful to the museum for providing the space and the platform to have these important discussions.
Want to see similar events we've hosted in the past? Click here.
Diversity, Equity, and Inclusion Experts: Meet the Panel
Meet our panel of powerful thought leaders who facilitated our discussion about building diverse, inclusive, transformative teams: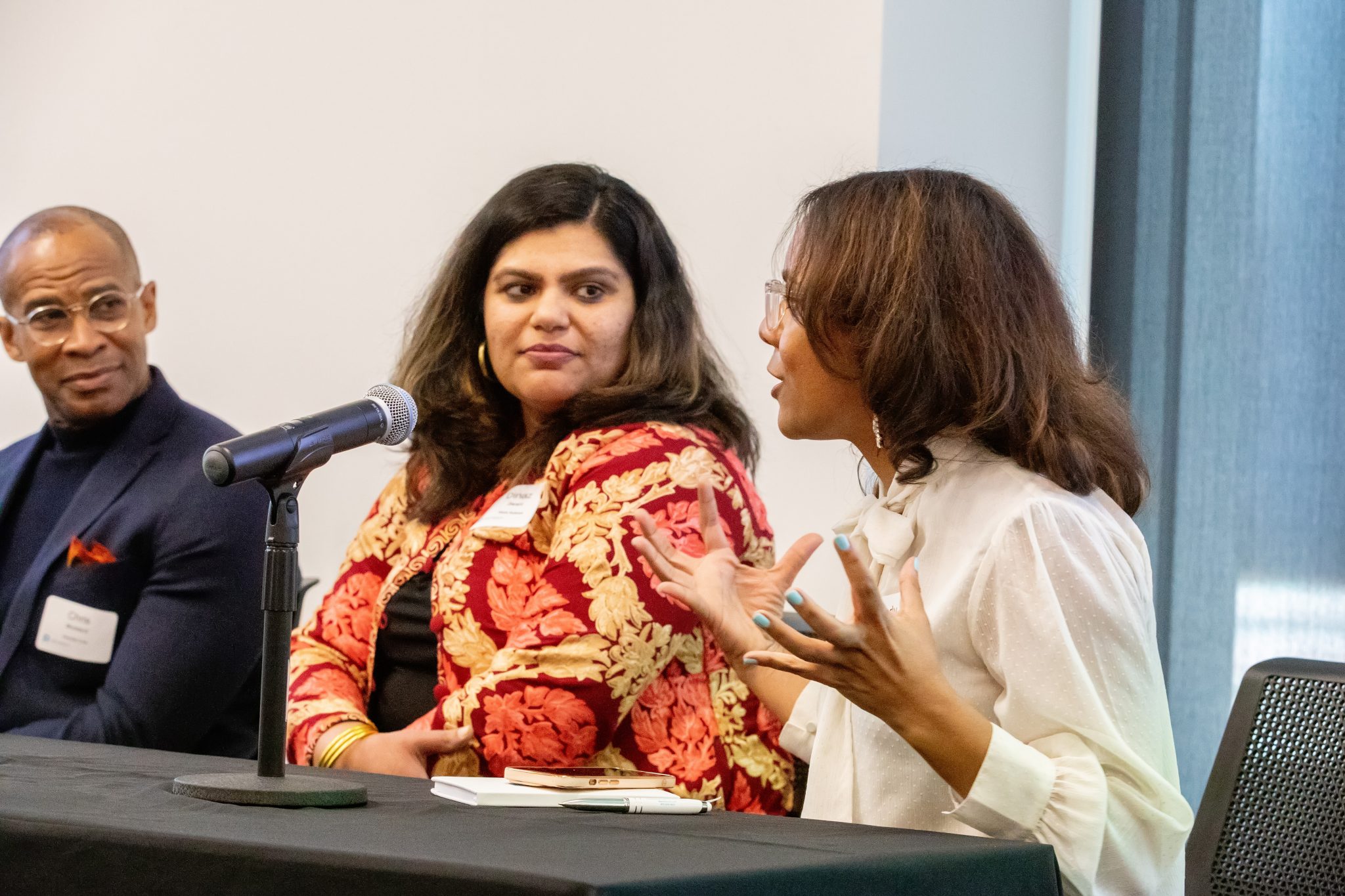 Kimberly Manns:
Kimberly Manns is the CEO of H3Diversity. She is a passionate leader with a talent for supporting diverse stakeholders coming together to solve challenges of diversity, equity, and inclusion. Her career in diversity, equity, and inclusion began over 15 years ago in brand management at Procter and Gamble. There she led multicultural marketing for major company brands.
Following her time at Procter and Gamble, she served the Mayor of Baltimore as Deputy Director of Policy and Communications. She joined the staff of the Commit Partnership in Dallas, a local non-profit focused on addressing educational inequities. In each of these roles, she focused on a systems approach to decrease educational and economic disparities.

Dinaz Kachhi-Jiwani:
Dinaz Kachhi-Jiwani is the founder of work/REFINED. She is an analytics and research expert who combines her passion for data and people to help problem solve, strategize, and generate outcomes for clients. Dinaz is an experienced data scientist who has worked for several Fortune 500 clients and international non-profits to provide data driven solutions to attract and retain underserved consumers.

Dinaz was an innovative analyst and lead research methodologist at Nielsen. She successfully worked on projects for Walmart, Verizon, Google, Comcast and Bank of America. Her keen insight into understanding and addressing the challenges with recruiting, engaging and retaining multicultural audiences, led her to eventually switch gears and focus on driving workplace inclusion and culture transformation as her full-time role.

Chris Moreland:
Chris Moreland is the Chief Diversity Officer and Managing Partner of Diversity Crew. Previously, Chris served as the Chief Diversity Officer of Vizient, a major healthcare organization. At Vizient, Chris created the Office of Diversity and Inclusion, chaired a committee of healthcare Chief Diversity Officers, was called upon to keynote as an equity and inclusion expert, and advised the CEO on all corporate diversity and inclusion matters.
Chris has held multiple senior executive roles over the past 20+ years, with reputable companies such as the General Electric Corporation, Johnson & Johnson, Pepsi, Mobil, Expedia and Microsoft.
How do we mitigate our unconscious bias from the hiring process? Follow these key takeaways and diversity, equity, and inclusion action items.
We understand that implementing DEI is a longterm commitment. Our panelists provided our guests with resources and action items to help them get started.
Dinaz Kachhi-Jiwani shared:
Begin with the basics. Train recruiters and hiring managers to be aware, self-reflect regarding their own unconscious biases. This way, they can be mindful about the impact of their actions in the recruitment process.
Build on intentionality. And, ensure that every step of the recruitment process including job descriptions, resume reviews, interviewing and decision-making process are tailored to appeal to diverse candidates.
Integrate the philosophy throughout the process. Conduct bias checks, culture checks, process checks, perspective checks throughout recruitment to mitigate the impact of biases and ensure that the best candidate is selected for the role.
Kimberly Manns shared:
Name bias before the interview.  Ensure everyone on the interview panel names their potential bias before the interviews start. (For example, prior consultants might be biased towards consultants.) This way, interviewers can hold each other accountable.
Identifying Bias in Hiring Guide. Here's a post event resource: Identifying Bias in Hiring Guide
Create a process map of your decisions.  Map out all of the steps to your hiring process. Then, identify where you make decisions. (For example, where to market, which candidates to interviews.) This strategy gives you insight into where bias may exist and where you may need to shift practices.
Event Highlights:
We are grateful to our attendees for engaging wholeheartedly in a challenging and motivating conversation. The success of this event was a collaborative effort! We appreciate all those who helped bring it to life. We hope you enjoyed it as much as our team did. Here are a few highlights.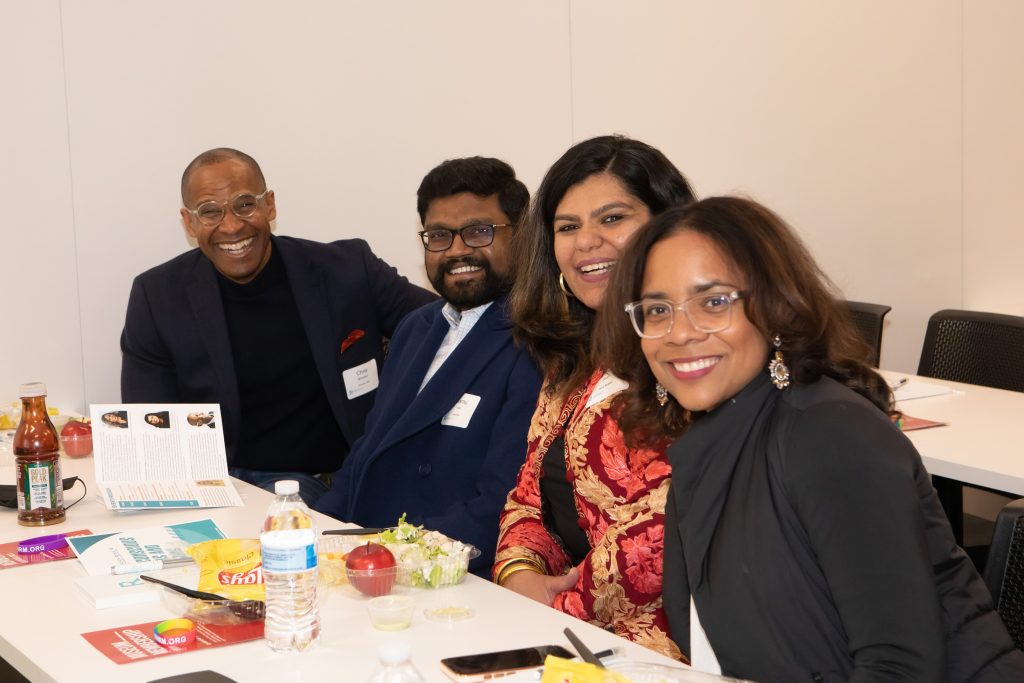 Build a diverse, equitable, and inclusive team with Risch Results
Are you looking to build out a diverse and talented team? Contact Risch Results to learn more about our recruiting practices. We are committed to finding the most dynamic talent to add value to your company's vision and culture. Contact us here.